Creative Ideas for B2B Content Marketing
Many marketers may feel that because they are promoting a B2B company that their content has to look and sound a certain way. Internet marketing has opened new doors for B2B content marketers to express a unique brand identity while still providing valuable and reliable content to their audiences.
Content marketing can connect you with new audiences, strengthen your relationship with current audiences, spread important information, and build a network of industry professionals.
Informative
Consistently sharing educational, accurate and reliable content will turn your brand into a trusted source of information. When you create original content that provides value to the consumer, you are not only spreading your brand name but also encouraging the consumer to create a relationship with your company.
Infographics
Infographics are a fun and simplified means of communicating facts and statistics. Online readers, especially busy professionals, may not have time to read long-form posts and blogs.
This does not mean that this audience is uninterested in the topic, but rather that the content is not in the appropriate format. Use infographics to summarize long and detailed written content into easily consumable visuals.
Creating infographics doesn't have to be difficult! You can easily create attractive and informative graphics using free and affordable online tools, like Adobe Spark's infographic maker or Canva's infographic templates.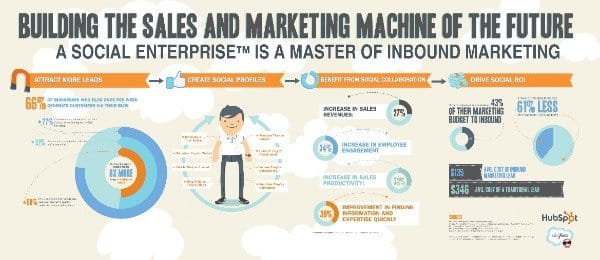 Podcasts
Podcasts can be an incredibly rewarding media, but it is not appropriate for every brand. Podcasts take much more planning and are more time consuming than other forms of content; however, if you are able to commit the time and resources to creating your own podcast, it could be very beneficial to your marketing program.
Though only 32% of B2B marketers create podcasts, compared to 98% using blogs and social media, it might not seem that this is a very popular format; this is exactly why creating a podcast now is a great opportunity. Before your competitors start making podcasts, get your message out there and establish yourself within the industry.
Interactive
Content that the audience can be a part of is more engaging than basic text, so much so that 91% of B2B consumers prefer interactive and visual content. Interactive content also generates twice as many conversions and five times more page views than static content.
Quizzes
Quizzes are a great place for marketers to start experimenting with interactive content. They can be easily and quickly created and distributed for free and are popular on social media sites. Quizzes not only attract audiences by offering something entertaining and engaging, but the responses you receive can teach you more about your audience's priorities, interests, and needs.
The subject of your quiz is up to you; it can be related directly to your brand- informing the viewer of the products and services you provide that could benefit their business- or more generally related to your industry.
There are many resources online to quickly create and share your own quizzes. Check out HubSpot's list of Best Online Quiz Makers to find a service that works for you.
Calculators and Tools
Most people use the internet to find resources they otherwise could not access. This can include calculators and other interactive tools to automatically calculate and estimate quotes online. These tools can guide consumers in the buying process to steer them towards the right purchase while also showing consumers you care about their best interests by offering tools to guide them towards the right solution.
From lease calculators to estimating how much you could save by purchasing one brand over another, there are endless ways you can use online tools to provide interactive and valuable content.
Sites like Outgrow and Calconic can help you quickly and simply build different types of interactive content including calculators, quizzes, and other forms and assessments.
Collaborative
The content you share doesn't have to solely be your own in order to engage your audience. Instead, working with other industry professionals can increase the reach of your content, improve your reputation, and open doors to new content opportunities.
Industry Insights
Sharing content that reveals the behind-the-scenes of your industry can be very eye-opening to consumers. Interviewing professional acquaintances can enhance your B2B marketing strategy in a few ways- by featuring another professional, you are expanding your audience to include their audience as well; you are sharing unique experiences that may have new perspectives and insights into the industry; you are improving your reputation by associating your brand with other renowned industry professionals.
The same goes for guest posts on your website or blog; having a guest writer can reveal new ideas and plans for the industry that you might have not been able to share otherwise. It can also prevent content from becoming repetitive and stale.
Case Studies
Case studies can be extremely valuable to both the consumers and the brand. For the brand, a case study is meant to highlight the value added to a client by the products and services of the brand. For the consumer, case studies provide specific information about the experiences and outcomes for the client.
Almost like a testimonial on steroids, a case study details how the brand implemented change for the client, the overall impact of this change, and the client's satisfaction.
Explore HubSpot's case study examples to learn more about how other marketers are using case studies to promote their brands.
Content marketing works for all businesses because content can be tailored to meet any need or goal. By experimenting with different media, tracking engagement and audience responses, and constantly adjusting your marketing strategy, you can create an impactful and rewarding B2B inbound marketing program.
Thanks for reading,
Shannon
Editor's Note: Originally published in October 2019, this article has been edited and updated for content in March 2022.