The internet is a powerful way to connect with people across the globe. With the world wide web in your back pocket, you have access to answers to all your questions.
The internet also allows your customers to educate themselves before making a purchase. Now, online reviews can answer any questions a customer might have about a product. Your customers probably have a lot to say about your brand, but why should you include customers reviews in your inbound marketing strategy?
Customers Trust Customers
Just like you trust the opinion of a friend or family member, customers trust online reviews; in fact, 79% of people trust online reviews as much as a personal recommendation!
Educated customers look for businesses that will provide them with the reliable products and services they expect. This means you need to show your customers that you are trustworthy and deserve their business. With 60% of customers believing online reviews to be trustworthy or very trustworthy, you can't miss the opportunity to use these reviews as a way to connect with leads.
Ninety-four percent of consumers say that positive reviews make them more likely to patron a local business, so if you have great online reviews, potential customers are more likely to trust that you are worth their commitment.
Happy Customers Leave Good Reviews
Although your strategy may focus on attaining new customers, your current customers are one of your greatest resources. Customer acquisition costs are higher than maintaining a customer relationship, so utilizing your existing base will not only help attract new customers, it could save you some cash too!
Customer experience is significant when it comes to maintaining customer relations; 89% of consumers are likely to make an additional purchase after a positive customer service experience, 93% are likely to make repeat purchases with companies who offer excellent customer service, and consumers who rate a brand's service as "good" are 38% more likely to recommend that company to others.
What about bad reviews? Well, 52% of consumers will ignore a business with less than a 4-star rating, and only 19% would use a business with fewer than 3 stars! The vast majority, 94%, of consumers say that a bad review has convinced them to avoid a business.
Whether leaving a review on Facebook, Google, or Yelp, your current customers are going to influence potential leads who read your online reviews. This is why including customers in your marketing strategy is so important!
What Should My Strategy Look Like?
So how do you incorporate customer satisfaction into your strategy?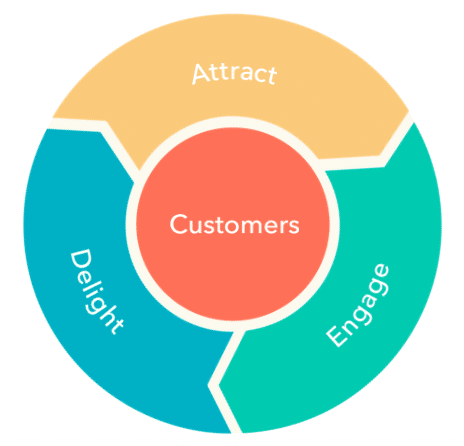 This is HubSpot's Flywheel.
Using this system, we can utilize happy customers by keeping them at the center of every stage of the marketing process.
There are 3 stages:
1. Attract: Prospects enter and interact with a company for the first time. Provide value before extracting value!
2. Engage: Convert interested prospects. Make decision-making and purchasing process as easy as possible.
3. Delight: Customer success is your success. New customers could become future influencers!
To convert your current marketing strategy to this system:
1. Identify core metrics you track.
2. Sort your team into stages on the flywheel.
3. Identify points of friction between customers and employees that affect customer experience.
Hopefully, you now see the role your customers play beyond buying your products and services. Happy customers mean good online and word-of-mouth reviews, and in our new digital world, a strong reputation is a huge advantage.
By maintaining strong customer relationships, you will create a base of trustworthy consumers to promote your brand.
Thanks for reading,
Shannon
Editor's note: This blog was originally published in September 2018 and has been edited and updated in January 2022.