Customer Reviews are an Integral Tool of Inbound Marketing.
Honest opinions from customers can hold more credibility than anything you might say yourself; in fact, 79% of all consumers trust online reviews as much as personal recommendations- and specifically 91% of 18-34 year old's.
Customer service was ranked as number one when buyers were asked what impacted their trust in a company, meaning that maintaining and improving customer relations can be a make-or-break point for businesses.
Online reviews have made sharing experiences and complaints much easier and more accessible, but reviews are not just up to the reviewer; to make the most of your reviews you must understand how they impact your reputation and how you can utilize them.
Best Practices For Online Reviews
1. Consistent Monitoring
The only way to fully utilize reviews is by staying on top of all your platforms. By monitoring reviews frequently, you are able to respond in a timely manner.
Reviews do have an expiration date. After too much time, older reviews can often become irrelevant to readers if the content no longer accurately represents the business.
Good, bad, and neutral reviews all offer certain advantages and you must respond before the opportunity passes.
2. Frequently Responding
Responding to reviews was once seen as going above and beyond for your customers, but now over 53% of reviewers expect a response within a week and 48% expect it within 24 hours!
If you're using popular platforms like Google, Yelp, or Facebook, you don't want to take more than a few days to respond. A quick response time signals to potential buyers that you prioritize customer satisfaction.
Your responses can even impact your SEO results. By responding to Google reviews, you are more likely to rank higher and increase visibility. The more local reviews you get, the more likely you are to appear at the top of relevant local searches.
Keeping up with reviews also means you're more likely to implement change where customers are dissatisfied and learn what delights your customers.
3. Plan for Negativity
Sadly, you are guaranteed to receive less-than-stellar reviews at some point. Luckily, you can use these negative reviews to save your relationship with the customer and maybe bring in a few more.
Even if a review is negative, you do not want to delete it. The only time you should be deleting reviews is if you consider them to be inappropriate or offensive. Online reviews can sometimes digress or get hostile, in which case you may want to remove the comment to avoid offending other customers or readers, and perhaps take the conversation offline.
Otherwise, you want to keep the negative review up and remember to always respond. Thank the customer for the review and offer sincere and specific apologies. Address the complaints mentioned in the review and give the customer a way to reach out to further remedy the problem, such as a customer service number or email address.
Although the review isn't singing your praises, how you respond will show that you care about your customers and you are willing to offer solutions. According to HubSpot, 96% of customers who leave a negative review will continue doing business if you respond genuinely and address the problem.
Response Examples
1. Positive Reviews

When a customer takes the time to write you a review, you want to reciprocate and write a message back. Tailor your response specifically for that review by including the reviewer's name and reiterate some of what was mentioned. This shows the reviewer that you value their business, as well as shows other readers that you have responsive and caring customer service.
2. Mixed Reviews

Mixed-reviews can be tough. The negatives can feel harsh, but the positives are often very good.
You want to address the positives first but never ignore the negatives. Readers are likely to skim reviews and absorb the most information from the first few words; highlighting the good parts gives a glint of positivity under a mixed review.
Finally, apologize genuinely, address specific complaints, and offer a solution.
3. Negative Reviews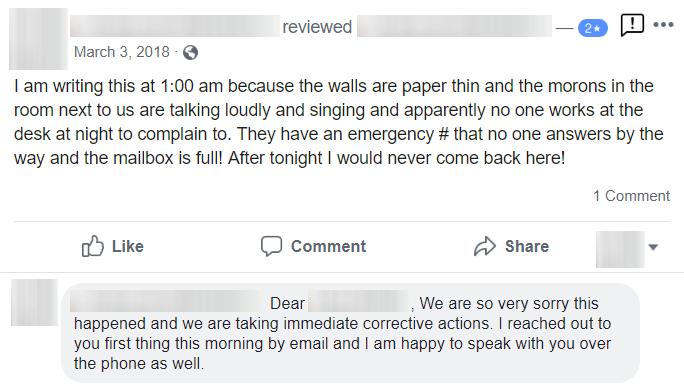 Bad reviews are the hardest to confront. Respond professionally and quickly, and do not put blame on the customer.
Offer to continue the conversation on a more personal level, like phone or email. This gives you the opportunity to offer a solution and improve the customer's opinion about your business.
It is important to prepare yourself for the possibility that they will not want to continue the conversation or that you won't be able to change their opinion, and that's okay! Use negative reviews to improve your customer service, products, and brand (on- and offline).
Hearing unfiltered opinions about your business can be used to evolve and improve your business structure, customer service skills, and marketing strategy, whether they are good, bad, or in between. Follow these best practices to begin harnessing the power of reviews today!
Thanks for reading,
Shannon
Editor's note: This blog was originally published in June 2019 and has been edited and updated in January 2022.