What is Digital Advertising?
Digital advertising means having your brand, website and offer show up at the top of Google search results for your key search terms.
How do you find the products and services you need? More and more these days, the answer is Google. Or Yahoo. Or Bing. Digital search.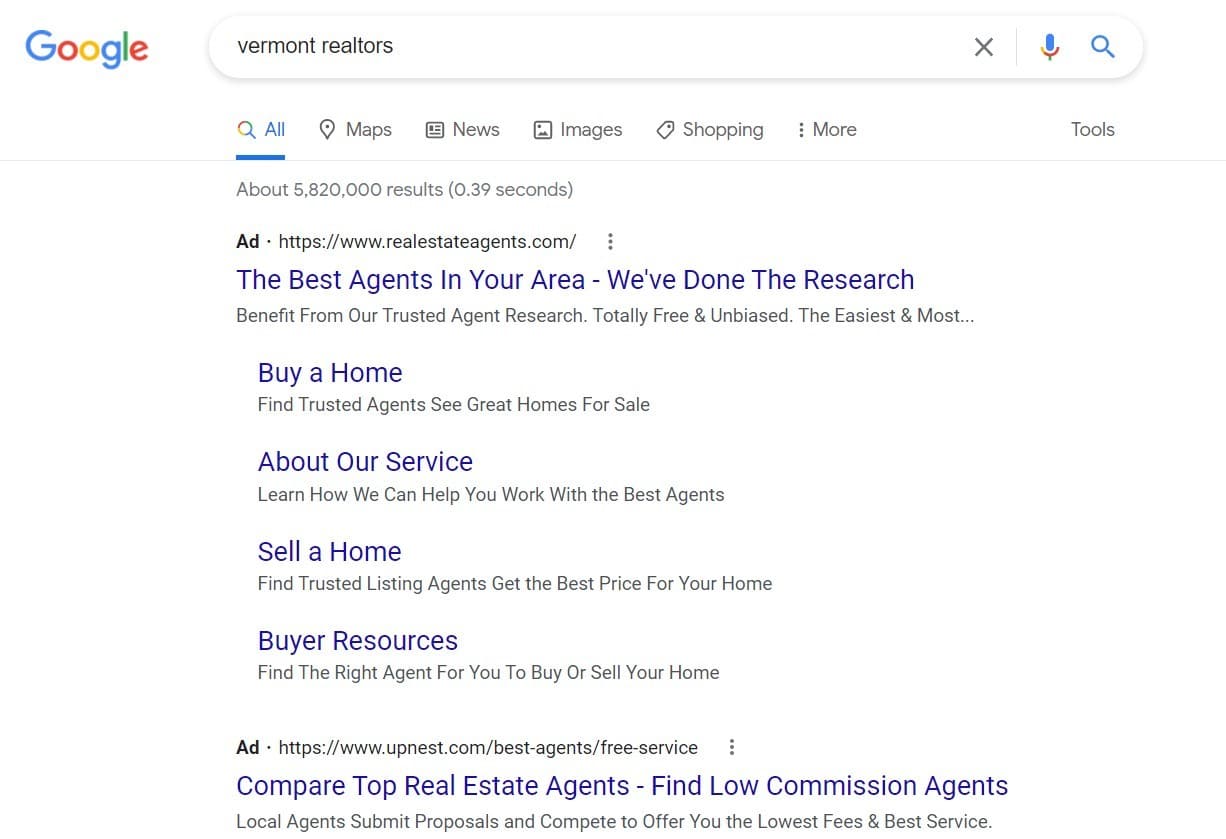 Take a look at the photo on the above. You can see how the search term "Vermont Realtors" is generating real estate ads at the top of the page.
Would you like your website to be listed at the top of the page when a potential customer or client is looking for exactly what you offer?
If your answer is yes, then you already have the best reason to advertise online!
Here are 5 more reasons you should start a digital ad campaign:
1. Flexible, Dynamic Advertising That Outperforms Other Options. For Less!
Why get stuck spending $$ on static print advertising when your business can rise to the top of Google, Bing, or Yahoo search for less?
Digital advertising programs are nimble and data-driven, making them easier to quantify and refine. They offer a proven return on investment.
By implementing powerful, keyword-rich text ads, custom display ads, and attractive landing pages on multiple channels (including social media, websites, and search engines) you will be able to reach your customers in real time right when they are searching for you!
Hate waiting to determine your return on investment with conventional advertising? So do we.
Because digital advertising offers buyers campaign management, plus regular reporting and analysis, your campaign's effectiveness can be enhanced and refined as it is running.
No more waiting to determine ROI on your advertising dollars. What other advertising option offers that?
2. You Only Pay When Ads Convert For You
Advertising that you pay for only when it works? What a time to be alive.
How would you like to be seen by customers at the very moment that they're searching for the things you offer? Sounds good. Yes, please.
With Bing, Yahoo, and Google Ads pay-per-click advertising, you'll only pay when customers call or click to visit your website.
Advertising through digital outlets like Google, Bing, and Yahoo, and on social media platforms and mobile is driving consumer engagement at increasingly high growth rates.
Digital advertising can leverage this powerful tactic to help your business be found by the right people.
3. Targeted Campaigns Connect You Directly To Your Buyer
By sending specific value messaging to key market components through custom Google, Facebook, or Twitter ads that appeal directly to your ideal target audience, you can quickly maximize the visibility of your business.
4. Remarketing: Low Cost, Big Bang For Your Buck
You know how you search for that grill for Dad for Father's Day, then all of a sudden, every web page you visit has a grill on it?
That's remarketing.
Remarketing is a low-cost option for digital advertising that reminds visitors about your website or company for days after their visit.
A well-run remarketing campaign will deliver a display ad to your website visitors when they are on other popular websites like Facebook and news sites, harnessing their high traffic for your brand.
Remarketing can be a solid long-term brand tactic to support an overarching brand strategy.
5. Seamless Customer Service for Your Clients. Who Doesn't Want Happy Clients?
Imagine walking into a store and immediately finding exactly the item you were looking for. No searching around, no back-and-forth, no wasted time. That's exactly the feeling your customers will have when they click on your digital ad.
A well-researched digital marketing program will mean your digital ad will be the exact answer for the specific question on your customer's mind.
Digital advertising connects your business directly to your customer, solving their problem with your product or service precisely at the moment when they need it- creating happy clients the minute they walk in your virtual door.
If you're interested in learning how you can implement a digital advertising program for your business, then check out our Digital Advertising services and contact us to get your business listed first!
Thanks for stopping by,
Laura
Editor's note: This blog was originally published in June 2015 and has been edited and updated in February 2022.