Building and maintaining a relationship with your customers is one of the most powerful ways to increase sales and bring in new customers, so leaving your customers happy and satisfied should be a top priority.
3 Ways Good Customer Service Can Increase Sales
1. Promote Trust
No matter how well you advertise your excellent products and reliable service, referrals from real customers say more about your business than you ever could. Hearing about a brand from a trusted source can influence a decision more than any other form of advertising.
83% trust the recommendations of friends and family
70% trust branded websites
66% trust consumer opinions posted online
Of the three most trusted advertising formats, only one is fully in your control. You can have a perfectly-designed website, but if your customers are unhappy with your business, your reputation precedes you.
2. Loyal Customer Base
Seeing what impact word-of-mouth can have, you want to utilize your most powerful resource for building revenue- your current customer base.
When attracting a new customer, most of your money is going into educating prospects about who you are and why they should choose your brand. All this effort to bring in a new customer can end up costing 5 times more than retaining an existing one. When engaging with a current customer, you already have a relationship that establishes trust in your brand and makes the buyer much more likely to make another purchase.
The probability of selling to an existing customer is 60-70% compared to selling 5-20% for a new prospect
80% of future profits will come from just 20% of current customers
65% of most business comes from existing customers
While you always want to build your target audience and attract new customers, your current customers offer opportunities that you can't get from a new customer. Taking care of your relationship will not only encourage more purchases in the future but will lead to happy customers that are likely to recommend you to others.
3. Build A Reputation
The reputation of your business is another aspect of your brand that isn't totally in your control. Much of how other brands and consumers view you come from what they've heard about you from others. Even if you have a solid online marketing strategy, unanswered negative reviews and complaints from unsatisfied customers can irreparably damage your reputation and lead to a loss of customers.
Statistics show that online reputation can affect every aspect of your business:
73% trust a local business more if it has positive online reviews
On Google, reviews have 7% influence on ranking, and going from a 3-star to 5-star rating can get 25% more clicks
69% of job seekers would turn down an offer from a company with reputation problems, and a bad reputation can mean spending 10% more per hire.
Because we rely so heavily on the internet for information now, managing your online reputation can be quite simple. Online reviews are one of your greatest tools in managing your reputation.
Reading a positive online review is as encouraging as a personal referral, according to 85% of consumers, and we already know how important referrals are for consumers. Every review, no matter how good or bad, is an opportunity to engage with your customers honestly. Regularly monitoring and responding to all your reviews will create an image of responsibility and genuine care for customers.
The HubSpot Sales Flywheel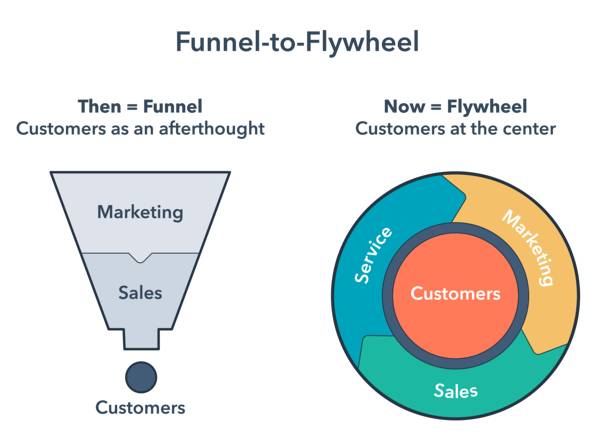 The traditional sales process is compared to a funnel, in which a large pool of viewers is impacted by marketing, then the stronger leads will move into the funnel to sales, where hopefully they convert to customers. The problem is, that is where it ends. There is not continuing process for customers.
HubSpot realized the flaw in this system- it only applies to new customers. What about current customers? They aren't going to start out at the very top of the funnel again because they are not being introduced to the brand. You can't abandon them at the end of the funnel and hope that they make their way back in either.
Instead, HubSpot began using the Flywheel to describe the process of constantly adjusting and improving your marketing and sales efforts to bring consumers repeatedly through the sales process through excellent customer service.
According to HubSpot, the Flywheel is affected by three factors:
How fast it spins– how much force is applied to the most impactful areas of your sales process, like customer service.
How much friction there is– what is reducing your efficiency, what areas of your process can you change to reduce friction.
How big it is– as you increase speed and decrease friction, your flywheel will grow and further promote your business
We believe customer service is one of the most important factors in the success of your sales process. Inbound marketing works to promote your brand to new prospects as well as keep you fresh in the minds of current contacts.
By prioritizing customer service and satisfaction, you will build up a loyal fan base which has shown to be statistically more likely to support your brand in the future. By maintaining an honest, trusting, and respectful relationship with your customers, you are creating a reliable source of revenue and increasing the likelihood of future sales.
Thanks for stopping by,
Laura